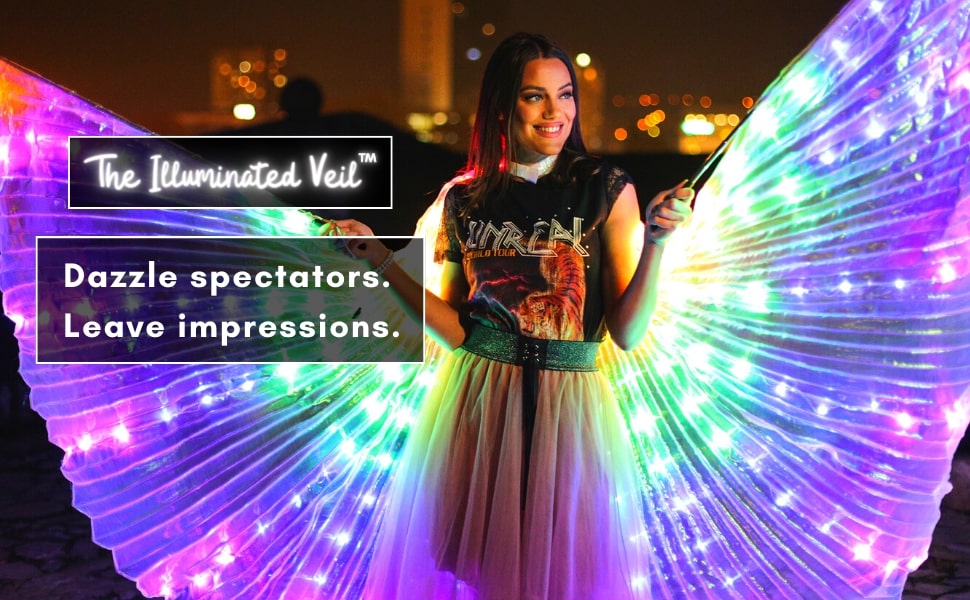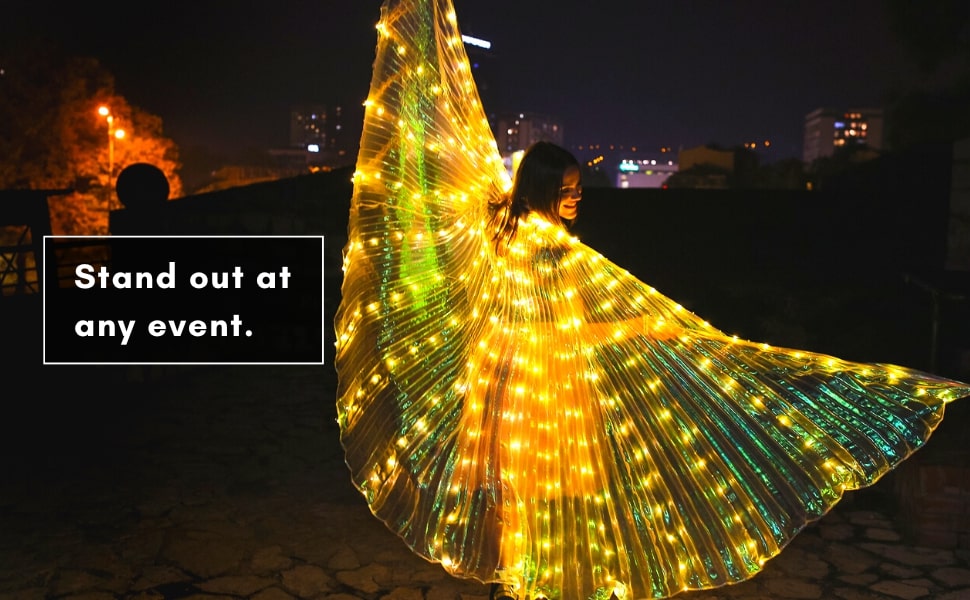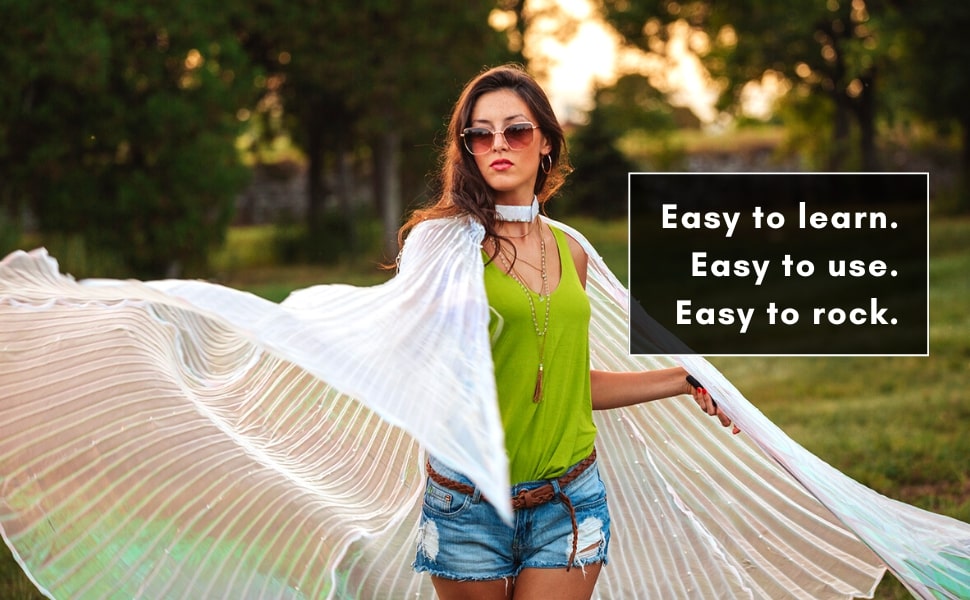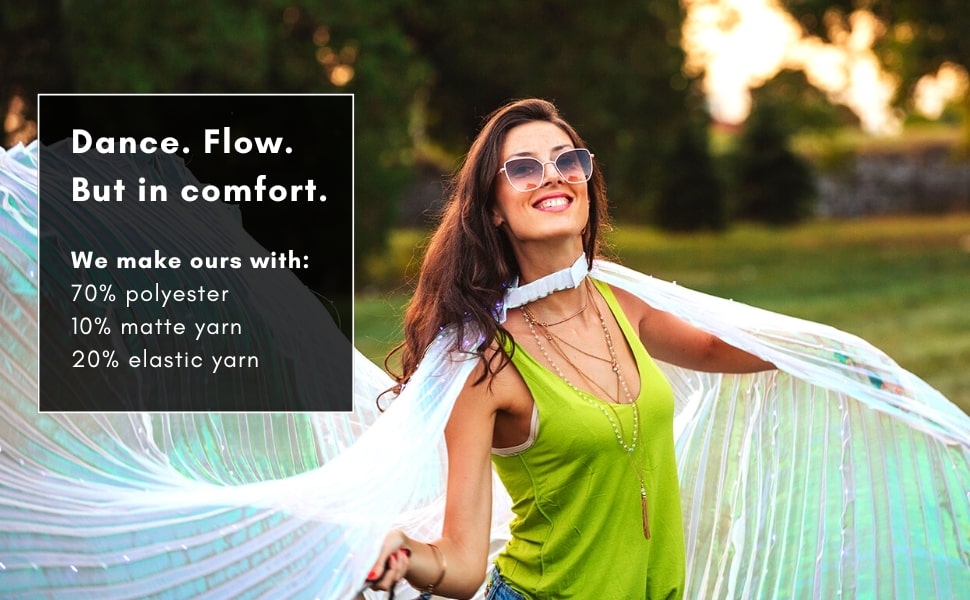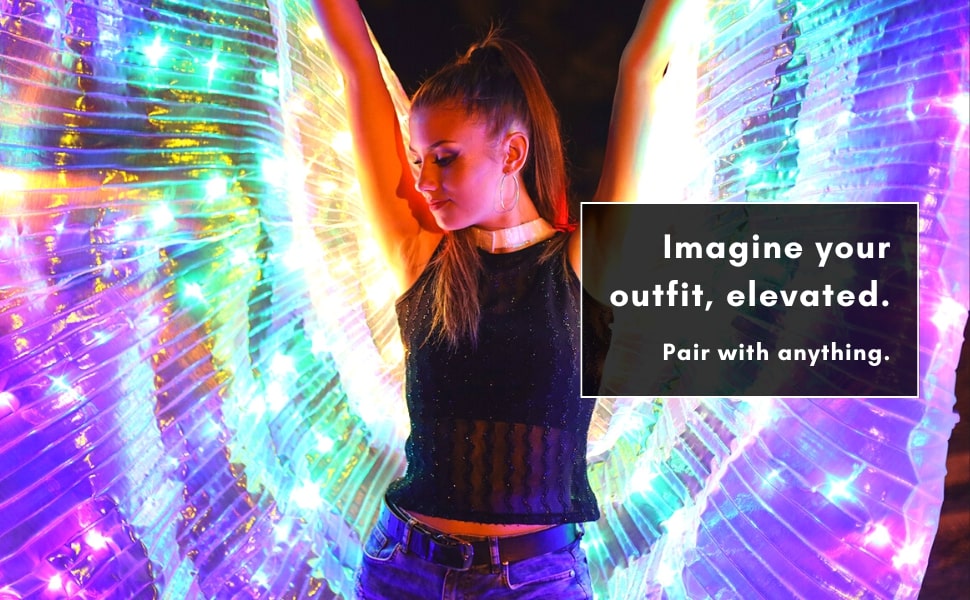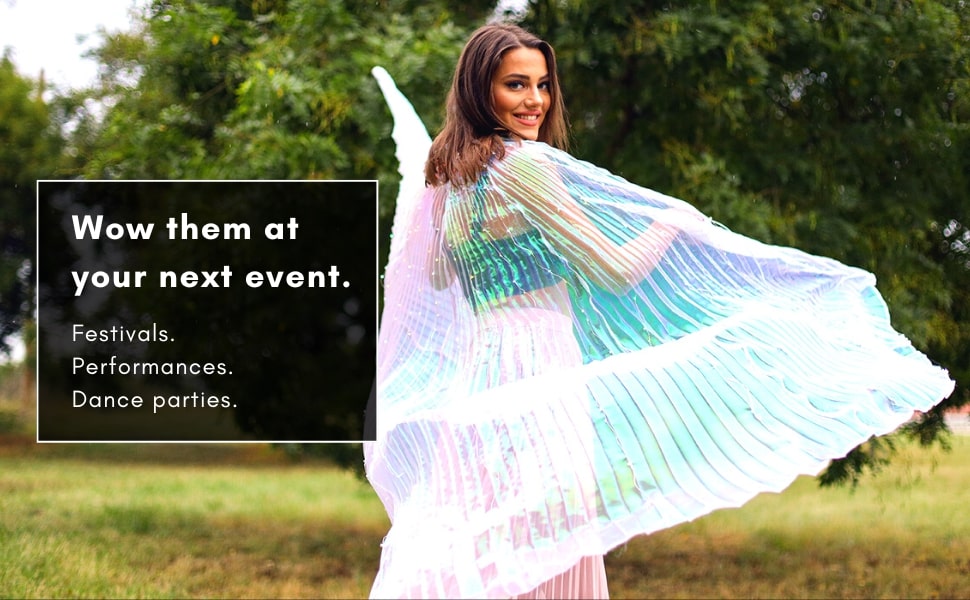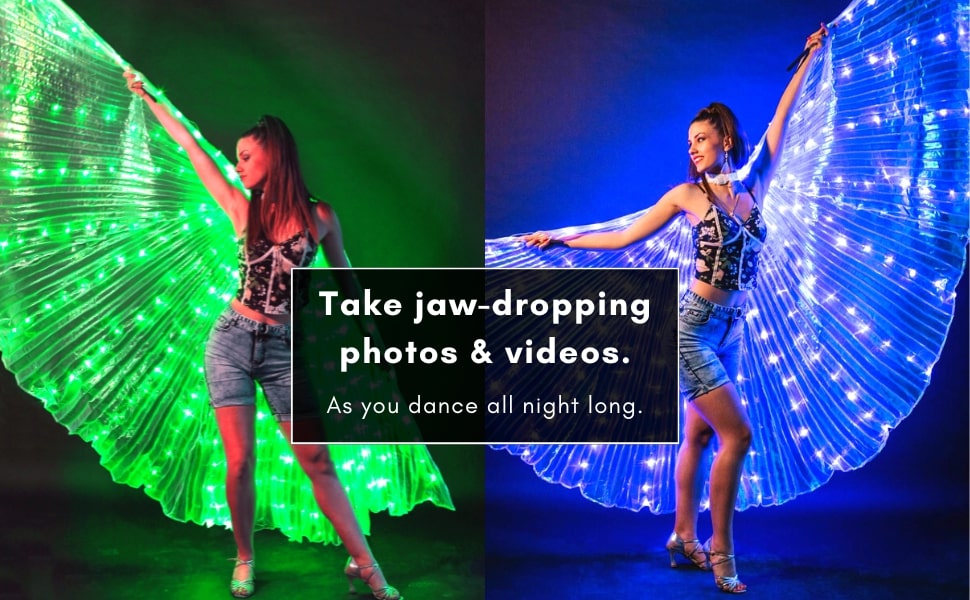 Explore Our Video Lookbook Content!
Purpose

Allow yourself to be part of a metamorphosis that is redefining elegance and mystique, globally. Join a collective of dreamers, explorers, and pioneers who are unfurling their wings and ascending with a renewed aura of liberty, bliss, and aspiration.

Your moment is not just on the horizon, but within your grasp.

The question isn't 'if', but 'when' you will take flight.

The Illuminated Veil™ lets you transcend the ordinary, becoming not just an accessory, but a proclamation of your unique style and discerning taste.

Whether your goal is to leave an indelible mark at a special event, to enhance your creative portfolio in fashion, photography, or content creation, or to simply revel in the joy of possessing an object of extraordinary beauty - the Illuminated Veil™ promises to amplify your presence.
Description

Elevate your dance, performance, and festival experience with the Illuminated Veil™!

Our stunning accessory combines vibrant LEDs, expert artisan craftsmanship, and premium aerodynamic fabrics for an unforgettable statement piece.

With solid and blinking light modes, you can easily control the dazzling effects with the built-in hand button as you dance the night away. Plus, our adjustable wingspan allows for the perfect fit and comfort.

Pair it with any outfit and become the star of your next festival, party, or performance. And for even more impact, get your friends to join you and create an awe-inspiring group display.

Illuminate your world with the Illuminated Veil™ and leave a lasting impression wherever you go.

Available Colors: Rainbow, Blue, Fuchsia, Purple, Green, Red, White, Yellow
Sizing

Available in 1 size only.

Dimensions (using telescopic rod): 
From the tip to middle of back: 55" inches (4.6' feet)
Fully extended from one end to the other: 110" inches (9.2' feet)

Note: The extendable telescopic rods can be set to any length and will help you achieve the exact wingspan you desire.

This item is handmade. 
Frequently Asked

What do you mean by extendable/telescopic batons? 

Extendable batons allow you to increase your wingspan by extending out the batons. You can also retract it whenever you want, in order to decrease your wingspan. You can set it to any length between maximum & minimum length. It attaches to your costume, making it easy to use.  

  

How does the Illuminated Veil work? Is it easy to use?

The Illuminated Veil is easy to use. It attaches to you using a strap which you tie around your neck (like a cape).

It includes extendable batons which give you the ability to control your wingspan up to 9.2' feet (optional - you don't need to use them).

There is an attached secret remote control near your right hand (easily accessible without having to take off your veil).

It features a solid color mode and also a dazzle mode. Powered by 3x AA batteries.

 

1. First insert 3x AA batteries.

2. Wear the Veil using the neck strap.

3. Insert wingspan extenders into the Veil (optional).

4. There's a remote hanging from a wire coming out of the battery box. Press once to turn on, once more to use dazzle mode, and one last time to turn off.

 

What if I have no experience? Will I look funny?

The Illuminated Veil requires no experience. A majority of our customers are not dancers. We knew that rhythm takes time to learn, and that our customers just want to look stunning, no matter what - without wasting extra time.

That's why our Veils are made with a unique blend of flowy, reflective, and aerodynamic materials that'll make looking good a breeze. Even simple movements can dazzle spectators as you dance your night away!

Note: We're working on something big that's educational - behind the scenes. Once it's complete, we'll give free access to any existing customer.

 

 

How do I contact you?

support@luminous-creations.com

For faster support, click through to our Amazon listing. 

Under Amazon's add to cart button, you'll see "Sold by Tidalpool". 

Click on our name, and send us a message! 
Shipping

We provide free standard shipping for domestic orders (USA).

For domestic orders (USA), our standard delivery time is 5-12 business days.

For international orders, our standard delivery time is 2-4 weeks. 
Some destinations have customs fees or shipping surcharges. Please contact us for shipping estimates.

We deliver internationally to Australia, Canada, and EU nations. 
(For other countries, check with our team. We'll try to arrange shipping.)

We understand the importance of timely delivery, particularly when it comes to photoshoots or events. Our shipping times vary depending on inventory, materials, & demand.

We encourage you to place your order in advance to ensure ample time to receive your delivery.